It's been nearly six years since GSMA released the first eSIM specification, and over a year since our announcement of iSIM. It's vital that ecosystem perceptions on adopting these technologies are fully understood. That's why we asked representatives from a range of different sectors across the entire IoT ecosystem about their views on eSIM and iSIM. In this blog, I look at the feedback provided by the OEMs.
OEMs on eSIM: Positive but Cautious
When compared with responses from other groups, OEMs have the least awareness of eSIM:
22.5% of polled OEMs say they are not aware of eSIM.
39% of those OEMs who are aware of eSIM believe that there is little awareness of this technology within their sector.
A large proportion of these 'little or no awareness' responses come from medium and smaller-sized OEMs, who may not have encountered many eSIM deployments in their target markets. A lot of eSIM awareness is driven by connected devices (such as smartwatches, laptops, smartphones), and IoT connectivity in the automotive sectors. These applications are mainly implemented by larger OEMs. Clearly, more work is needed in raising awareness of the range of use cases, benefits and case studies to instil market confidence and accelerate wider adoption of eSIM by all OEMs.
Only 57% of OEMs agree that eSIM will overtake traditional SIM cards as the preferred SIM technology. This is relatively low compared to an average of 80% observed across other sectors.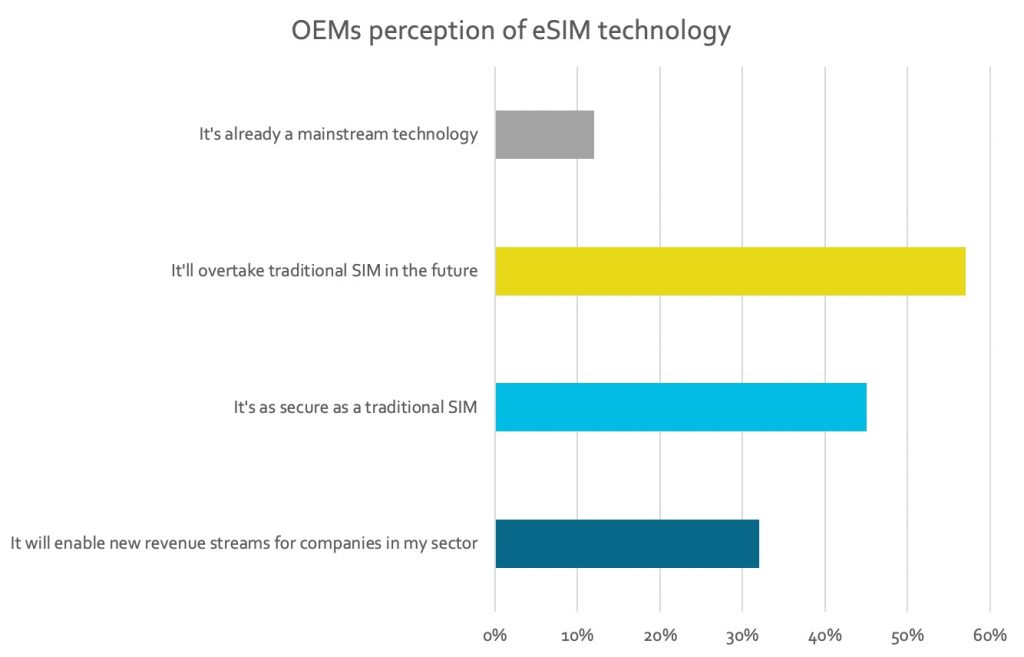 Not surprisingly, 4% of OEMs plan to start deploying eSIM in the next year; 12% within the next two to five years; and 46% within the next five to 10 years. OEMs, along with enterprises, also give the highest 'investigated adoption, but decided to wait' response, at 14% each.
The silver lining though is that 88% of those OEMs who are aware of eSIM recognize its positive impact on their customers, understanding the many benefits and opportunities it brings. Overall, it appears that OEMs see eSIM as a positive development, but a significant proportion are choosing to delay their adoption. Let's look at the possible reasons why.
Obstacles to eSIM Adoption: Resistance from Traditional Stakeholders
Resistance from traditional stakeholders, cost and delivery complexities are the top three obstacles identified by OEMs. These concerns are similar to those of MNOs, chipset makers, IoT service providers and enterprises, with stakeholder resistance being a concern across the board.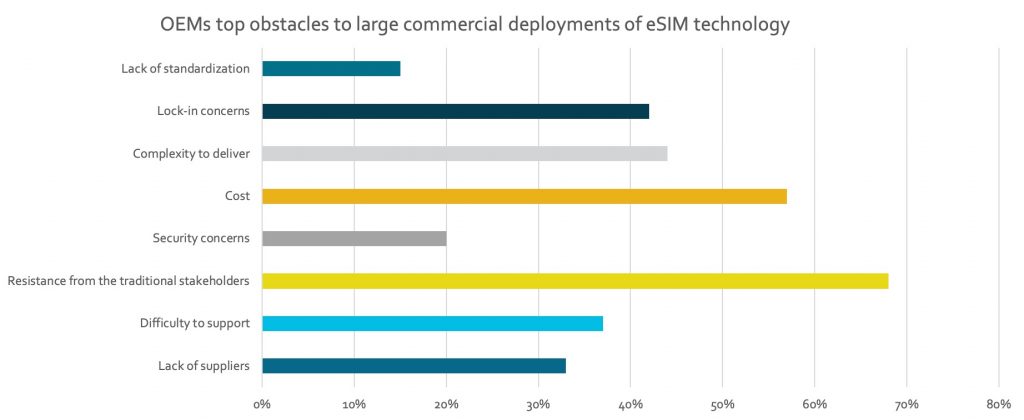 68% of OEMs surveyed believe that there is resistance from incumbents and a reluctance to move away from the traditional SIM model. While it's understandable that changes to the decades-old model may be challenging to all those involved, eSIM evolution is inevitable. After all, eSIM is the only way to scale IoT businesses as the logistics involved in handling physical SIMs are too complex and expensive. GSMA plays a pivotal role in standardizing eSIM technology. This ensures interoperability and makes it easier for OEMs to deploy future-proof solutions even if some of the traditional players are slow to adopt eSIM.
Putting Theory Into Practice: Complexity to Deliver and Cost
Delivery complexity is a notable concern across all the respondents, with nearly half highlighting this as a top obstacle to eSIM adoption.
Designing devices around traditional SIMs is a relatively low-risk exercise, while eSIM requires changes to established designs. However, replacing a SIM holder with an embedded chip in the device is a manageable task which is well understood. As more manufacturers work with eSIM designs, confidence will grow. It's a lot like when the shift from EPROMs to flash memory happened – flash adoptions soared when confidence in design practices and flash reliability took hold. An increase in eSIM chipset and module options in the market will also help.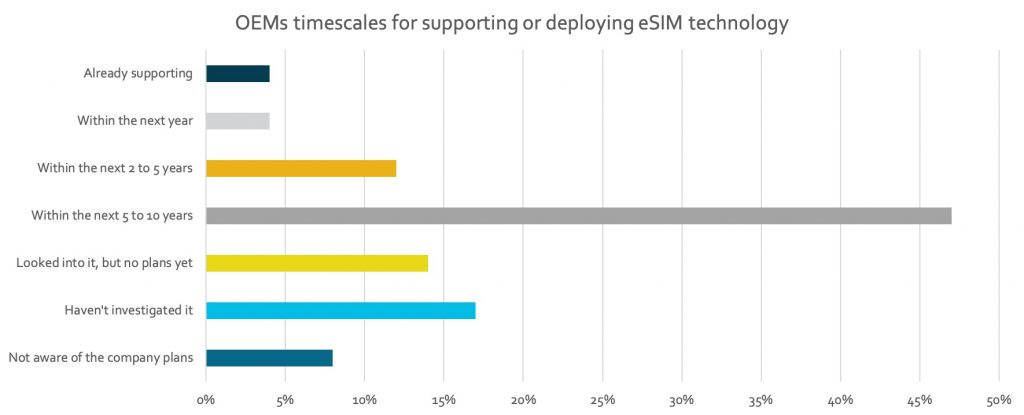 As with any new technology, some OEMs may wonder whether they have the business, commercial relationships, resources, and operator support needed. More industry evidence of interoperability, adherence to standards and successful deployments may alleviate these concerns. Seeing a pull from enterprises who want to have more flexibility in managing their cellular device connectivity will help OEMs' business cases.
OEMs may have concerns about adjusting manufacturing, supply chain and other business processes. They might also worry about the perceived complexity of managing eSIM projects, whether it is sourcing an eUICC or starting with remote SIM provisioning (RSP). Leading eSIM solution providers recognise this and offer easy integration processes to make it straightforward to start with eSIM. For example, Kigen RSP solutions are designed for easy integration with existing workflows and we work closely with partners during and after the on boarding of our eSIM solutions to ensure the quickest time-to-market.
A further concern was the cost of eSIM adoption, with more OEMs (57%) citing this than any other sector polled. Implementing eSIM chips is currently more expensive that implementing traditional SIMs, but as the volumes pick up, manufacturing and implementation costs should come down. Furthermore, the total cost of ownership of an eSIM is much lower than that of a traditional SIM and this cost saving should filter through the entire value chain as adoption grows.
Next Comes Integration on SoCs
iSIM is a logical progression from eSIM, bringing SIM functionality on-chip. For a technology first talked about in the mainstream only in early 2018, awareness of iSIM is strong, with 30% of surveyed OEMs already aware of this technology. After all, OEMs stand to benefit significantly from iSIM, as it reduces the complexities of managing SIMs even further.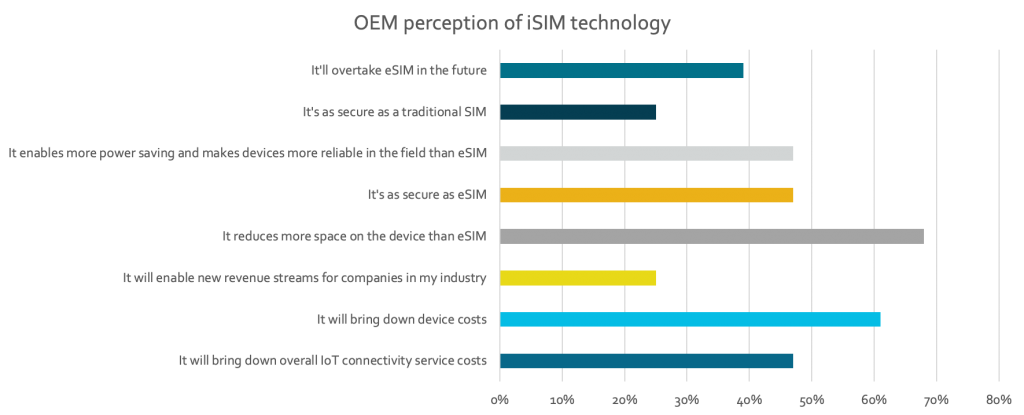 The device space-saving benefits are clear, and this is backed by the results of the survey, with all groups agreeing that this is a benefit of iSIM. 68% of OEMs agree on this. 40% agree that iSIM will overtake eSIM at some point and 61% predict lower device costs.
36% of OEMs haven't investigated adopting iSIM yet. 11% are looking to adopt within the next five years, and 14% within the next five to 10 years.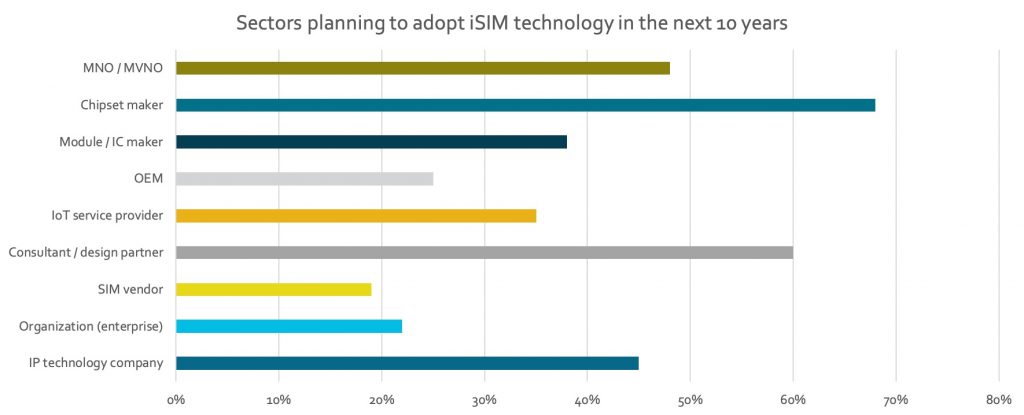 Key issues highlighted mirror the eSIM obstacles, with top concerns being cost and resistance from stakeholders. It's likely we will see these concerns reduce considerably as eSIM adoption increases and the benefits of new SIM technologies continue to be realized.
Mainstream Ahead
Mainstream adoption only occurs when early adopters succeed. Adopters carefully evaluate any changes to existing processes and seek multiple options. Lifecycle concerns such as security and reliability need to be alleviated, providing assurance about the new technology.
The good news is everything the mainstream eSIM adopters need to see is being worked out. GSMA anticipated a lot of questions about the relevant processes, security and interoperability. More and more industry players are supporting GSMA specifications and we're looking forward to the ecosystem sharing their success stories.
These are exciting times for eSIM and iSIM. At Kigen, we're committed to working with businesses across the entire ecosystem to help them succeed and make sure that eSIM and iSIM become mainstream. 
To learn more about eSIM and iSIM, check out our solutions page.