Kigen, KORE and Energy Web eSIM-enabled Secure ID and Data Exchange for Smart Grid solution wins the Platinum Award for Urban Smart Grid Innovation at Juniper Research's FDA Awards.
Basingstoke, England. Sep 06 2022
Juniper Research today announced the FDAs (Future Digital Awards) for Smart Cities & IoT Innovation 2022. These awards recognise the most groundbreaking and impactful solutions in the smart cities and IoT spaces operating across numerous areas, including: IoT security, Smart Cities, Sustainability and Net Zero.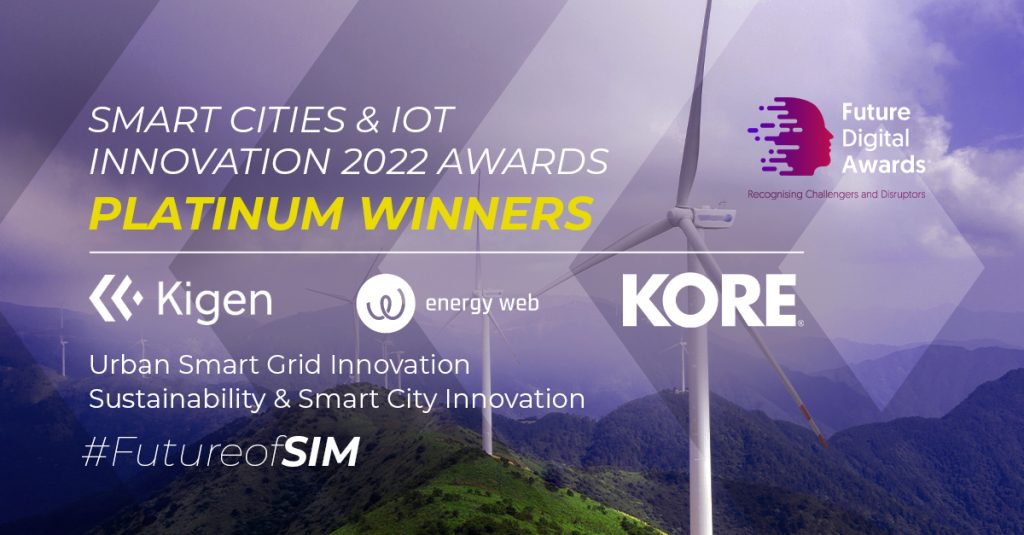 Platinum award for Urban Smart Grid Innovation
Since 2008, the Future Digital Awards have been awarded to tech companies at the forefront of their respective fields: companies that deliver imaginative, innovative products or services that have the potential to disrupt their ecosystems and provide significant benefits.
Juniper Research announced today, that Kigen is the Platinum Winner for Urban Smart Grid Innovation for our joint solution enabled with KORE and Energy Web.
The press announcement from Juniper Research noted that this year's edition of the awards received a record number of entries. All entries go through a rigorous evaluation process, with an initial assessment by analyst panel, with a shortlist based on
Product innovation
Features and benefits
Product partnerships
Certification and compliance to standards
Future business impacts
Final decisions are based on the assessment, scoring and confined by the Juniper Research judging panel.
Urban Smart Grid Innovation award for Kigen's joint solution with KORE and Energy Web
Formerly, Kigen has been recognized as the Gold Winner for Best IoT Security Innovation of the Year 2020 for Kigen iSIM at the FDA Awards. It is great to continue this pedigree forward with the 2022 edition of the FDA awards.
The award-winning joint smart grid innovation solution was unveiled at Mobile World Congress in Barcelona earlier this year. The combination of KORE eSIM, Kigen's eSIM OS and Open IoT SAFE and de-centralized crypto in the form of Energy web token, enables a secure data exchange for smart grid players. Each partner has brought elements that deliver the benefits of global connectivity, security, and blockchain to offer an essential step to a zero-carbon economy. This becomes a giant leap as more smart energy grid players find a common blueprint that meets the needs of future grid and energy demand.
Find out more about Kigen's Smart Grid Innovation with KORE and Energy Web.
FDA's Smart City Innovation category covers a wider range of smart city innovation categories, such as smart traffic management, smart parking, smart urban lighting, and urban EV charging. Further, it spotlights the growing investment of IoT into wider transformation around carbon reduction along with the pathway to net-zero.
Vincent Korstanje, CEO of Kigen, told Juniper Research:
"We are honoured to be recognised for our OPEN IoT SAFE Solution, brought to market collaboratively with KORE and Energy Web; showing how trusted data and devices can enable game-changing transformation. A world first that combines field-proven and standardised eSIM, blockchain and IoT SAFE: it empowers smart metering OEMs and smart grid operators to transform urban grid IoT data towards a zero-carbon economy."
Wider recognition across ecosystem
Additionally, other Kigen ecosystem partners were recognized for IoT Innovation:
Private Cellular Network Innovation – floNet by floLIVE – Platinum Winner
eSim Innovation of the Year – @ ZARIOT End-to-End Data Encryption – Gold Winner
Best IoT Device Management Platform – Simfony IoT Connectivity Management Platform by iBASIS – Platinum Winner
Congratulations to all winners recognized.
At Kigen, we firmly believe in thinking big and acting fast – especially when secure IoT can enable wide reaching benefits and game-changing impact for our future. The featured solutions are great examples of empowering great ideas through collaboration across the industry.
Click here to read the original announcement.