Kigen and Tongxin Microelectronics Co. Ltd. (TMC) deliver the first-ever simple, global, secure, commercial and GSMA-certified consumer eSIM solution to empower OEM innovation to 5G FWA demand for affordable CPE devices. Lead customers are already developing commercial products based on this offering. The companies are now extending it to general availability, starting at MWC Shanghai 2023.
Announcement in a nutshell
Fixed Wireless Access (FWA) represents the second largest 5G revenue opportunity in unserved and underserved areas, estimated as one billion addressable connections.
Customer Premise Equipment (CPE) devices deliver 5G networks to where it is needed by enabling broadband connectivity. Populous and price-sensitive markets are driving the need for affordable CPE.
This first-of-its-kind solution combines the latest in secure eSIM (eUICC) from Kigen: Kigen eSIM Consumer OS, supporting up to 10 operator profiles, with multiple profiles on the compact TMC TDH89-512 eSIM secure chipset variant, typically 1.5x more memory-constrained than other chipsets in this space.
Premises with less than 100 users have the broadest applicability for device makers to deliver differentiated experiences. eSIM technology enables CPE devices to support 5G networks with a high-quality of experience, ease of installation, and overall simpler management throughout the network's lifetime. OEMs can quickly expand device designs for new geographies.
The solution is commercially available for all OEMs wanting to address the large number of Requests For Proposals (RFP) for CPE after successful adoption from lead customers for multiple applications. See how OEMs such as MeiG Smart address this high-growth space in this CPE Solution Brief.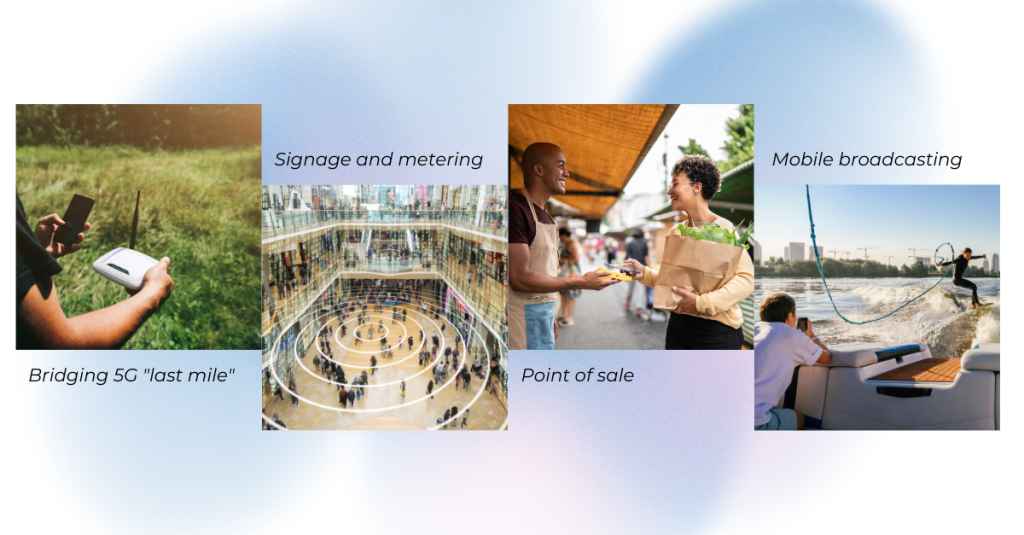 Growth applications for 5G CPE devices innovation
Why this matters?
Further resources
Read more in this Solution brief.
To view and download all resources in one neat pack, visit this link.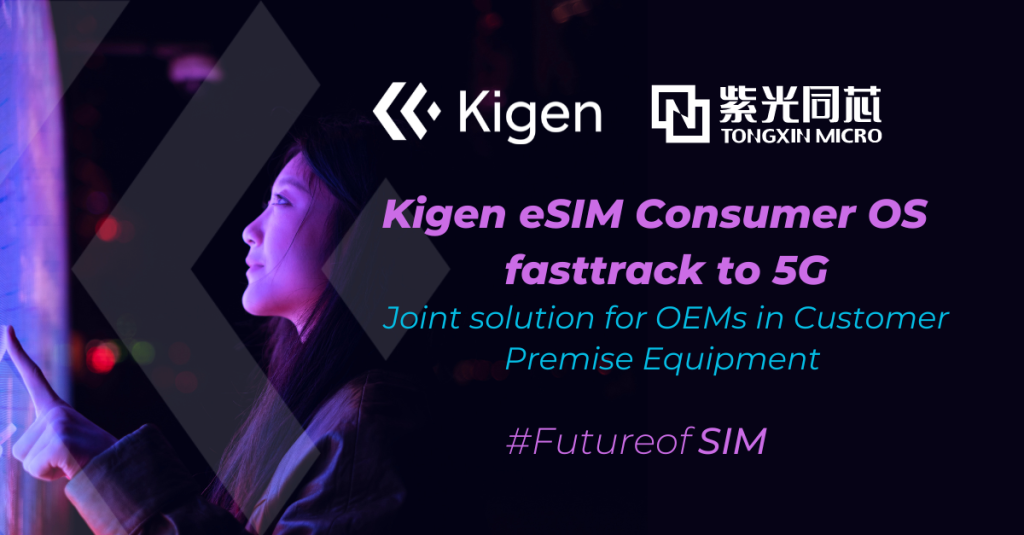 Kigen and TMC collaborate to drive eSIM innovation in Customer Premise Equipment (CPE) solutions
London, UK – June 20, 2023
Kigen, a global leader in eSIM (eUICC) technology, and Tongxin Microelectronics Co., Ltd. (TMC), an industry-leading semiconductor solution provider, today announced a GSMA-certified consumer eSIM solution for affordable customer premise equipment (CPE) solutions. CPE devices bridge the "last mile" in delivering 5G networks for businesses or households that lack connectivity or networks in motion. This solution allows OEMs to support the demand for greater diversity in 4G/5G CPE devices addressing the next billion connections.

Operator demand for 5G Fixed Wireless Access (FWA) is driving the need for a multitude of CPE form factors. This includes indoor, rooftop, wall-mounted, or portable and battery-operated CPE devices. 5G FWA has arrived in populous countries such as India, Mexico, Nigeria, the Philippines, and South Africa.

"Global 5G FWA CPE cumulative revenues are expected to reach over $100 billion between 2020-2030. Bringing down the total cost of 5G FWA CPE is integral to 5G broadband adoption, scale and return on investment for all stakeholders in this price sensitive segment."

Neil Shah, VP of Research at Counterpoint Technology and Research
The joint solution is based on Kigen's Consumer eSIM OS, the world's most compact size eSIM OS, on TMC's THD89series eSIM chipset, available as a smaller WLCSP package and using Kigen Remote SIM provisioning platform for IoT devices. This combines Kigen's highly efficient eSIM proposition and TMC's robust security IC expertise for:
Easy installation: Simple field setup workflow to onboard new devices with profile download via an accompanying app.
CPE management: Better IT or admin experience through digital profile downloads for activation or switching profiles.
Driving innovation: OEMs can focus on value-added services through streamlined fleet management.

This joint solution has been successfully designed in with lead customers addressing Retail Point of Sale (POS), smart metering, and logistics eSIM application with CPE devices.
"CPE devices are a catalyst for much larger, global deployments of the 5G roll-out and an absolutely critical requirement to ensure a great return on the 5G investment. Kigen's focus on energy efficient security OS for IoT now extends to the consumer market and brings time-to-market advantage in combination with TMC's chip expertise to scale fast."

Vincent Korstanje, CEO of Kigen.
"We are excited to partner with Kigen to deliver an eSIM solution to our customers. The eSIM solution will enable device makers to provide their customers with global connectivity without the need for changing physical SIM cards. This will make it easier for device makers to sell products in multiple countries."

John Zou, Vice GM of TMC
This CPE solution is available now, and interested OEMs can see it during MWC Shanghai 2023 during 28-30 June 2023. For more information, please visit https://kigen.com/esim/ or https://www.tsinghuaic.com/
Read the solution brief in full here.
About Kigen
At Kigen, we are integrating security to better lives with eSIM (eUICC) and iSIM technology across all connected products and data. Our industry-leading SIM OS products enable over 2 billion SIMs. Our GSMA-certified remote SIM provisioning and eSIM services drive this momentum, further recognizing us as one of the global eSIM enablement leaders. As an Arm-founded company, we bring an ecosystem approach to driving innovation and collaboration. For more information, visit kigen.com or speak to us on LinkedIn about #futureofSIM.
Contact:
Bee Hayes-Thakore Erin McMahon
VP of Marketing Account Director
[email protected] [email protected]
About TMC
Tongxin Microelectronics Co., Ltd is the principal enterprise of automotive electronics and smart chips in the Tsinghua Group, whose business area covers smart cards, consumer electronics, automotive electronics, MCU, memory, and& devices. We have accumulated industry-leading chip R&D technology and wafer testing capabilities, won the First Prize of National Science and Technology Progress Award, CC EAL6+, GSMA SAS-UP, AEC-Q100 Grade1, ISO 26262 ASIL-D, and other awards and certifications. We have nearly 300 authorized patents and have developed into an industry-leading semiconductor solution provider.
Read the full news release