Vincent Korstanje reflects on two years of Kigen's mission around securing the identity of all connected devices and their data and how iSIM technology is driving impactful actions.
The world of 2022 luckily looks a very different place than like 2018. Last week, our iSIM Pioneers event gave us more reason to think so. Customers, partners across chipsets, modules, connectivity, and system integration; and our own team, all gathered in London for an exclusive show case of iSIM technology. This may seem strangely commonplace again, but in this case, was an industry first – with multiple iSIM platforms and solutions running side by side. Thank you to all of our partners who made this unique feat possible, bringing a wide range of differentiated products that serve multiple sectors.
Since our first partnership announcement around iSIM, (as a part of Arm) in 2018, customers have had to tackle the seismic shifts brought by the pandemic, disruptions in supply chains and widespread component shortages. All of which make a thrilling tale that garners huge respect and commendation for those who are successful in reaching commercial success for iSIM solutions coming to market. Initially we had seen the potential with the technical benefits of iSIM technology making more compact, more energy efficient products possible. We now have learnt that this is only part of the story: the reduction of the bill of materials and simplification of SIM and security logistics yields huge benefits for customers in navigating the headwinds.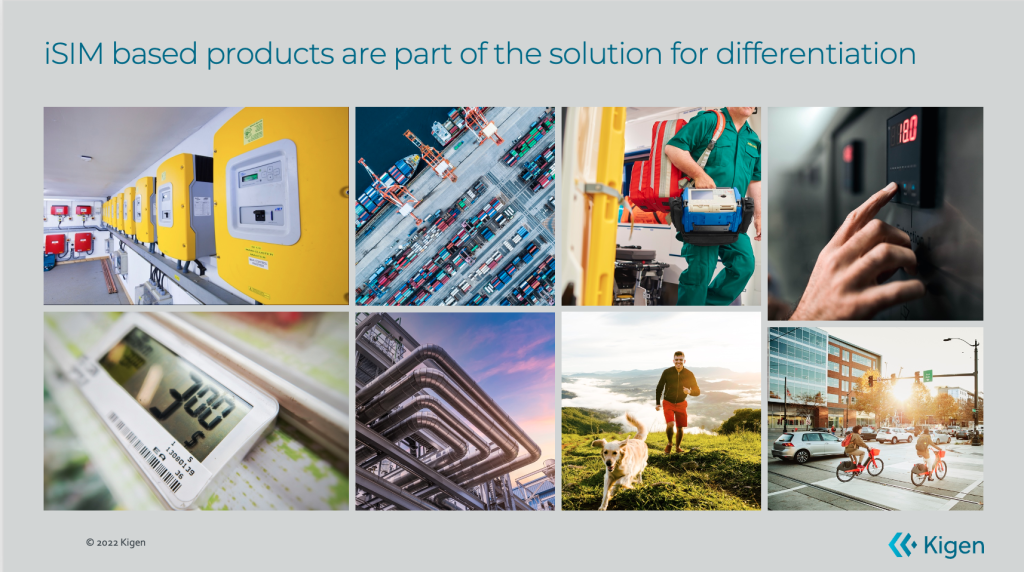 Learning from their experiences, our ecosystem is committed to easing how customers can access iSIM technology, gain more support and buy-in across their wider organizations and sectors, benefit from testbeds and newly available platforms that can speed development for proving proof of value for scale.
Alongside this, we're making progress in driving more standards-based approaches to a wider set of players just starting on their Cellular IoT journeys. One example is GSMA's IoT SAFE standard. Building on IoT SAFE, Kigen's OPEN IoT SAFE offers a solution for Energy Web to use KORE's market leading eSIM as a hardware wallet anchored to an open-source, publicly accessible blockchain. This joint solution forms the foundation of a secure data exchange for smart grid players. Such trusted device and data marketplaces are driving the start of a digital economy of things, where security is a vital foundation.
Furthermore, as more science-based understanding of climate change emerges, it is driving sustainability interventions for companies, cities and countries higher in priority. eSIM and iSIM based security models are now getting validated across wide scale deployments in smart metering, electrification of the grid and road networks, sustainable transport contributing to global goal impacts.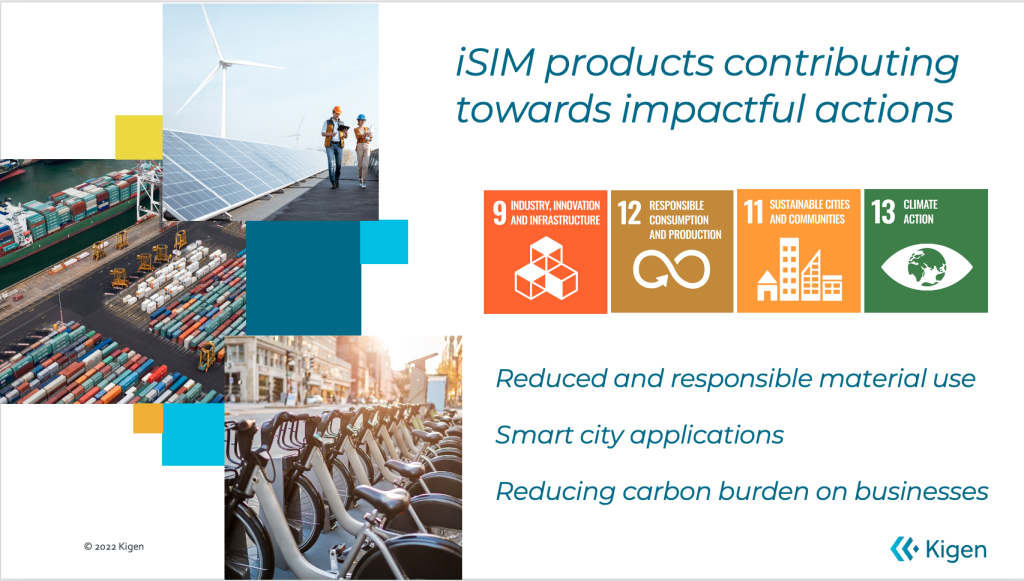 For the past year, it has become more apparent that companies everywhere are looking for more reliability, ease of manufacture and simplification. Remote SIM Provisioning (RSP) which is an inherent feature of eSIMs and iSIMs allows for business model flexibility for manufacturers – supporting two main types of scenarios. One, where the entire device hardware ecosystem is under management by a network operator; and another where the downloadable network profile(s) are managed by the connectivity provider, and the host devices are under control of the manufacturer or customer.
This flexibility offers a division of labor across the value chain that opens the cellular market to companies who don't have prior experience of cellular and reduces the long process of multiple months to certify and test interoperability of network profiles for device makers targeting their products in multiple geographies. We continue to drive collaboration with leading MNOs, such as AT&T, to simplify these steps – now with customers being able to move from sourcing their SIM/eSIM/iSIMs to being able to transfer ownership of their SIMs through Kigen and their chosen module maker.
At Kigen, we operate with the principle that every action defines and evolves our culture. Central to our ways of working is a passion for customer success – the focus on speed, agility and simplicity is part of our mission in achieving this. It's been a highlight for me to learn from customers how they are pro-actively supported by our team.
We have been able to hire great talent and grow our leadership team, strengthening several functions around our server solutions, middleware and solutions delivery who support our partners. The good thing is – it feels we are just getting started. We won't yearn to 'return to normal' but define a new normal, which fits a better environment where the best ideas and actions can take shape to positively impact our ecosystem.
An old Nigerian proverb goes: if you want to go fast, go alone. If you want to go further, go together. Our partnerships with you are based on the idea that in a time when we can design anything, we must choose to design for impactful actions that shape a better future. Thank you to all at Kigen and in our ecosystem that are part of our journey so far. The best is ahead.