After two years of limited attendance, MWC Barcelona was back in full swing. Kigen was proud to sponsor the 5G IoT Summit and partner with KORE Wireless at the eSIM Seminar. The Mobile world's flagship show delivered innovations across 5G and 6G, Private Networks, Open-RAN and Edge Intelligence, covered in abundance online. Interestingly, according to research firm IoT Analytics, 'Security rose as one of the key themes rising higher than IoT in mentions across MWC'22'.
Source: IoT Analytics
Given this is the realm we work in, we wanted to put more color to this! We asked our team in attendance what their top three highlights were:
Here's a summary:
1-iSIM technology momentum is strong with several partner showcases
'Kigen ecosystem partners have always been at the forefront of ensuring integration of optimal security in ways that ease the development of products and allow cost-effective solutions. It was great to see over five different ecosystem partners enabled by Kigen demonstrating iSIM platforms at the show." said Vincent Korstanje, CEO of Kigen.'
The variety of iSIM solutions from leading module and chipset manufacturers and Tier 1 MNOs address the growing demand for compact and battery efficient solutions needed in telematics, tracking and healthcare markets – all of which are seeing strong global growth. This is the next step to the strong engagement we have seen with public announcements with AT&T working with Kigen to streamline customers' supply chains and reduce time-to-market for enterprises that want to use iSIM to connect their IoT devices. Plus, long-standing partnerships with cellular IoT chipset maker Sony Semiconductor Israel (Sony), formerly Altair Semiconductor and connectivity partners Vodafone, FloLIVE, Truphone and Soracom, and module vendors Murata and Quectel​.
Vincent Korstanje also addressed the 5G IoT Summit with a keynote covering how iSIM and the rapid advance in roaming networks reduce the effort needed to integrate security and connectivity for global manufacturers. Using the latest GSMA standards, Kigen's eSIM and iSIM offer an easy transition path for advancing security and data-driven insights.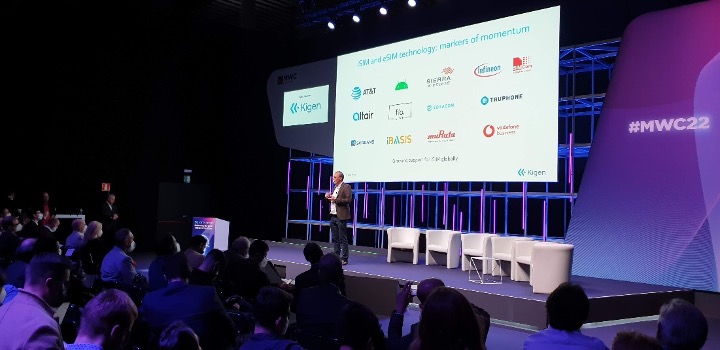 2-eSIM becoming the standard for enterprise IoT devices
Momentum for eSIM is accelerating in the market. Many manufacturers are embracing the technology and recognize the enhanced security it provides with the SIM securely downloaded into a 'secure element' that can be permanently embedded in any device. Furthermore, remote SIM provisioning, can address battery life dependent IoT devices with a broader range of geographies and simplify fleet management or SKU optimizations.
Newsletter Sign-up// – Light Gray Inline
Sign-up for our newsletter to receive the latest from Kigen.
A vast array of leading MVNOs have added the ability for IoT customers to switch between global roaming and local MNO profiles over the air in a secure manner, which helps Enterprise OEMs accelerate their digital transformation with simplified and reliable connectivity.
The eUICC based eSIM enables secure device connectivity and simplifies cellular IoT device activation by intelligently supplying the best subscription in the field.
Manufacturers realize the cellular IoT security benefits where devices need to secure their communications and be individually identifiable for network authentication. Whilst also ensuring the data is secure at source and in transit and integrated with zero-touch into intelligent data insights.
"It was great to see so many OEMs and our network partners supporting the fast growth in smart metering, healthcare, logistics and many other applications! It was clear from the intense schedule of meetings that our ecosystem is innovating faster than ever and for the team, it's great to support the customer success in these markets," said Stephen Halpenny, Chief Revenue Officer, Kigen
3-New business opportunities with IoT Smart Data
There was a wealth of interest in IoT data use cases. The vast network of sensors on smart meters, telematics, and agriculture is rising. The data from IoT devices fed back to company servers are being used to uncover business insights that allow organisations to act precisely.
Organisations use IoT data to monitor anything from smart energy usage to crop health and shipment locations to patient healthcare. These organisations rely on secure data at the source, in-flight and in the cloud.
An example is the secure global connectivity solution for Smart grid applications designed with eSIM and OPEN IOT SAFE technology. The IoT Safe applet uses eSIM as Root-of-Trust to protect the data coming off devices ensures is protected, allowing organisations to make insight-led decisions based on trusted data.
This collaboration between KORE, Energy Web, and Kigen supplies an open exchange of trusted data to speed up the clean and renewable energy transition. There are many untapped opportunities for ecosystem partners to work together to unlock the value of smart data and simplify access for OEMs.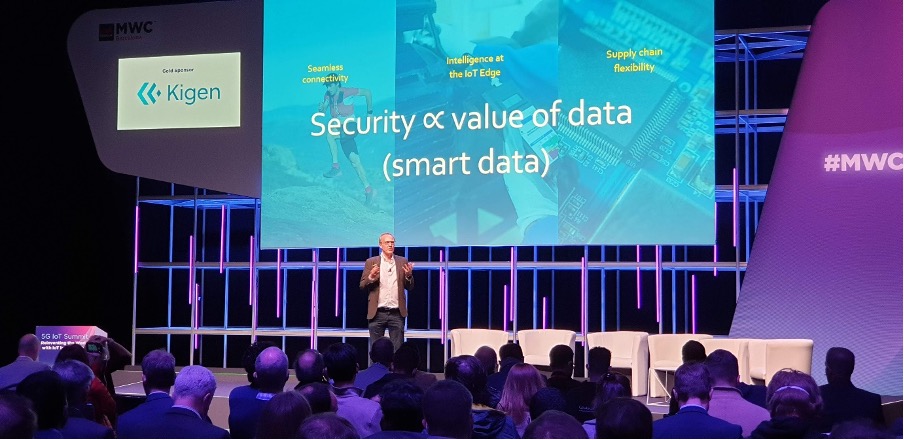 MWC Barcelona exceeded all expectations with a massive buzz around the halls of the Fira.