OEMs can take advantage of local IoT connectivity in Turkey (Türkiye) with eSIMs enabled by floLIVE, Protahub and Kigen, available now and to customers world-wide.
Belfast / London, 10 October 2023
floLIVE, the creator and owner of the world's first and largest hyperlocal global cellular network and a leading provider of global connectivity and network services for IoT, and Kigen, a global security leader in IoT enablement via SIM, eSIM, and iSIM technology solutions, have completed all necessary steps to provide local connectivity services in Turkey.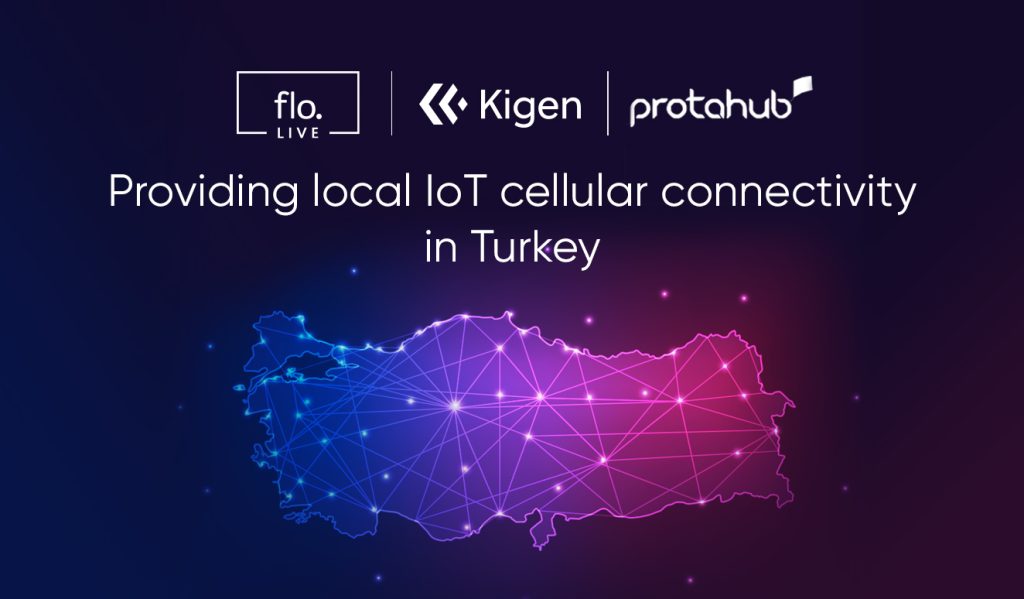 floLIVE is now offering local cellular IoT connectivity in Turkey to its global customers, via a single global SKU.
With its partner, Kigen, floLIVE has spent many months building the ecosystem and integrating the necessary systems and platforms to serve its global customers in Turkey; the companies teamed up with Protahub, the only local Turkish entity with the mandate to control local eSIM subscription profiles, to create a complete, end-to-end solution that will allow OEMs, global enterprises and mobile operators alike to obtain local IoT connectivity in Turkey via their existing eUICC compatible SIMs.
This has been a complex endeavor, as Turkey has unique requirements for local cellular connectivity, where permanent roaming is impossible and IP data must be routed locally, in-country.
"Up until now, anyone who needed connectivity in Turkey had to approach the MNOs in-region directly and purchase SIM cards to install in their devices. They needed to engage in a separate contract with the local MNO, use separate APIs for integration, and at the end of the day they ended up with very limited management and control. With floLIVE, our customers benefit from a single SKU that simplifies their logistics and supply chain, and offers a streamlined, unified global experience. During the last few months we've been approached by numerous customers – from OEMs to tier-1 mobile operators – asking for a local connectivity solution in Turkey as part of their global operations"

Nir Shalom, CEO floLIVE
The process flow in Turkey is unique, unlike standard eUICC local profile management:
floLIVE provides its customers with a standard eUICC SIM, in all form factors.
When a device arrives in Turkey, floLIVE's Connectivity Management Platform (CMP) detects the device's location and initiates a local profile download process, via Kigen's Remote SIM Provisioning (RSP) platform.
The RSP prepares the profile in line with Protahub guidelines, initiating a SM-SR swap.
Protahub downloads the required profile to the SIM and validates with both platforms – Kigen's RSP and floLIVE's CMP.
"floLIVE and Kigen are working closely together on numerous initiatives and projects, and are looking to replicate this success in other regions so that global deployments are achievable with a single SKU and a unified experience. With an eSIM, you have a strong foundation for trusted devices across multiple geographies, while complying with the local regulations."

Vincent Korstanje, Kigen's CEO.
About floLIVE
floLIVE operates the first and largest hyperlocal global cellular data network, based on local POPs in dozens of locations worldwide. With the largest global connectivity library of its kind, we provide centrally managed, localized connectivity for any device, anywhere. Global means no limits on where you do business; local means low latency, high performance, and full compliance. Our network has been designed to comply with the emergence of privacy acts, data regulations and roaming restrictions. Best of all, we provide direct access to our network, that lets you control your connectivity as if you were the carrier. Monitor your devices, access real-time network events and usage, switch operators remotely, and troubleshoot failures ahead of time, so your devices never miss a beat. For more information, visit www.flolive.net.
About Kigen
At Kigen, we are making the future of securing connectivity simple. As simple as can be. Together with our partners and customers, we are unlocking new opportunities as (integrated) eSIM becomes the cornerstone of connected device security. Our industry-leading SIM OS products enable over 2 billion SIMs. Our remote SIM provisioning and eSIM services drive this momentum further placing us amongst top 5 SIM vendors globally. Our employees globally are guided by the vision of a world where every device can connect securely and reliably. For more information, go to kigen.com or speak to us on @Kigen_Ltd on X and LinkedIn about #FutureofSIM.
About Protahub
Protahub is a new generation technology company that provides services and solutions for the Telco industry in Turkey. Protahub was established to develop new technologies by heavily investing in R&D activities. By leveraging this objective Protahub has developed expertise in the Telco domain. Protahub serves MNOs and IoT/M2M device manufacturers by providing state of the art provision technologies. We aspire to lead the telecom industry as a pioneer in RSP services, proudly holding our SAS-SM certification. Our vision is to revolutionize global connectivity by crafting seamless and secure solutions that empower individuals and businesses to stay connected worldwide. At Protahub, our mission revolves around leveraging our expertise to provide unparalleled RSP services; through innovative solutions, we aim to redefine how people access and utilize mobile connectivity, offering reliable, efficient, and secure connectivity solutions to our valued clients. Continuously researching and adopting cutting-edge technology, we are dedicated to positively impacting the telecommunications landscape, promoting digital inclusion, and elevating communication experiences for everyone.
Excerpts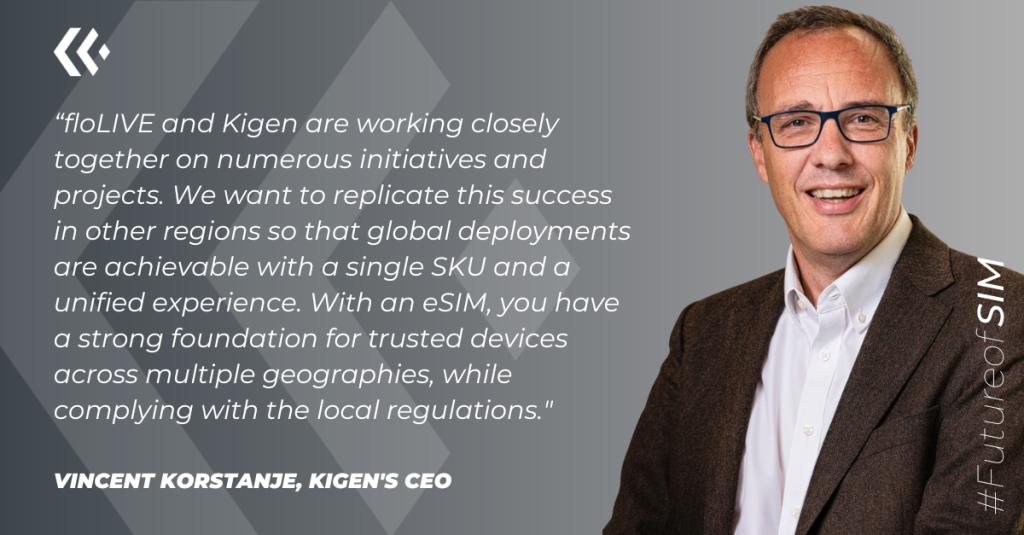 Find out more
See full announcement here.
If you would like to speak with our experts, book a meeting here!
See more information on eSIM here.
See more about how to benefit from Kigen's growing ecosystem partnerships here.