The transport and logistics industry is witnessing growth in IoT solutions as more devices are connected and linked to the cloud. Digitalization through smart sensors enables organizations to track assets, optimize traffic routes and increase efficiency in logistical operations on a global scale.
Cellular IoT devices provide real-time visibility across the supply chain, allowing for constant product status monitoring and proactive decision-making, improving supply chain operations. The data generated from connected devices holds immense potential that is only now starting to be recognized.
IoT security as standard
Embedded SIM (eSIM)  and Integrated SIM (iSIM) are perfectly suited to user-centric tracking applications which benefit from secure cellular connectivity. Both technologies enable trusted firmware and software updates over the air to ensure the integrity of the device. This ensures supply chain data is trustworthy and reliable, which improves distribution, inventory stock taking and accurate forecasting.
Smart and secure connectivity
IoT devices for tracking assets are installed on vehicles or goods such as containers that can securely transmit vital data through embedded SIM (eSIM) or integrated SIM (iSIM) to a web-based software platform. By strategically placing discrete trackers within crates, containers and pallets, goods can be efficiently tracked cost-effectively.
The secure data exchange of interconnected devices is evolving rapidly with connected tracking sensors ensuring high visibility of supply chain operations globally. eSIM can store multiple network operator profiles which are remotely provisioned, can switch carriers and receive firmware updates over the air (OTA).
eSIM advocacy in transport and logistics
The transport and logistics industry has been a keen advocate of eSIM; 45% of transport and logistics respondents with a current cellular IoT deployment reported they use eSIM as quoted in the Enterprise Cellular IoT Survey 2023 from Kaleido Intelligence. The main reason for adopting eSIM is to avoid operator lock-in, with 69% of users reporting this as the reason for their usage. A reduction in SKU count is close behind at 66%.
eSIM enables a rich set of IoT capabilities and is fast becoming the form factor of choice for module makers looking to instill a root of trust in asset-tracking devices with robust, scalable chip-to-cloud security. Its compact size and ability to operate in low-power devices can be deployed in large quantities worldwide. 
Newsletter Sign-up// – Light Gray Inline
Sign-up for our newsletter to receive the latest from Kigen.
Localized data with remote SIM provisioning
Cellular IoT devices with eSIM can be used everywhere, managed via remote SIM provisioning (RSP) which can change profile remotely if an asset moves to another region on a different network.
By using Kigen's eSIM and remote SIM provisioning (RSP) solution, connected devices can establish a connection with a domestic network instead of relying on roaming services with the associated higher charges. Even a modest monthly saving over the device's lifespan can more than makeup for the upfront and occasional costs incurred from IMSI switching.
A leading edge in cold chain logistics
There are certain goods where it's critical that certain storage conditions are maintained. This is possible through networks comprising small sensors that can be easily deployed at any required scale to monitor and regulate factors such as temperature, air quality, humidity, lighting and pressure.
IoT tracking devices ensure their quality is maintained and benefit perishable items, sensitive medicines and high-value goods that require specific temperature conditions during shipment. eSIM and iSIM-powered devices help provide clear, trustworthy analytics to accurately track data across the cold chain logistics process.
Transform operations with new IoT technologies
IoT-enabled asset tracking has been boosted thanks to the progress of mobile network technologies such as 5G with LTE, IoT RSP and Non-terrestrial Network (NTN).
Some standards helping to propel eSIM to the forefront:
The incorporation of NB-IoT and CAT-1 Low Power Wide Area Networks (LPWAN) in the latest 3GPP standards for 5G technologies ensures tracking devices can remain operational for extended periods, spanning multiple years, without requiring a battery replacement.
New development in IoT RSP eSIM SGP.32 enable configuration at various stages such as eUICC manufacturing, IoT device manufacturing, or in the field for seamless modification of eSIMs
Non-terrestrial networks became part of the 3GPP standard in Release 17, establishing a solid foundation for direct communication between NTN satellites and cellular IoT devices to ensure reliable connectivity
Non-stop coverage with Non-terrestrial Networks for 5G IoT
The ongoing progress of mobile network technologies such as 5G with LTE and LPWAN technologies and the 3GPP Non-terrestrial Network (NTN) means OEMs can expand device coverage. Satellite communication enables continuous connectivity in remote areas where cellular and LPWA networks may experience instability.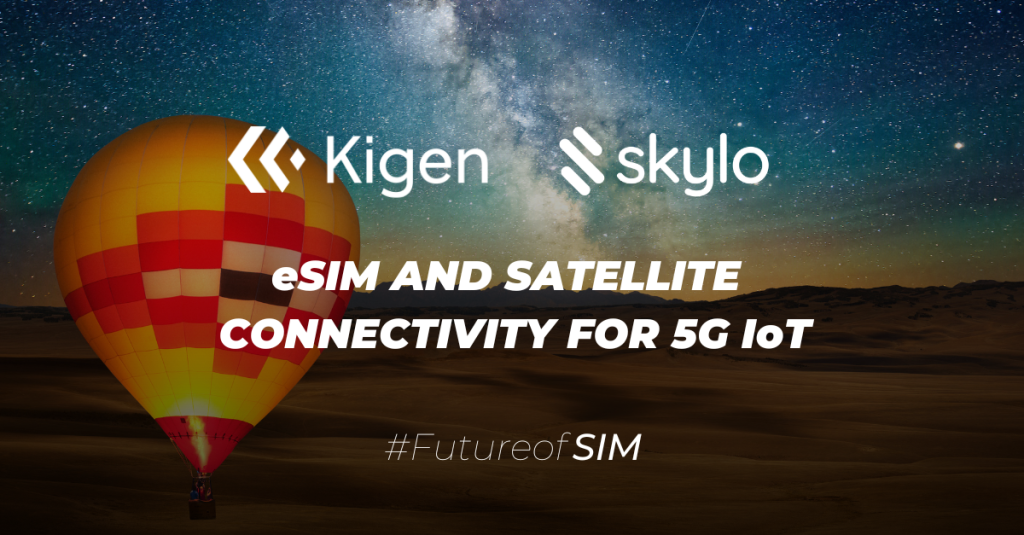 Our partnership with Skylo, an NTN operator makes satellite connectivity seamless for device makers by enabling a smooth transition between cellular and satellite connectivity. The combination is attractive for deployments that require continuous coverage such as real-time asset tracking, where constant cellular connectivity is necessary.
Kigen's eSIM and iSIM solutions and our partnerships in the module, chipset and MNO ecosystem provide the opportunity to simplify device manufacture and late-stage personalization.
Whether you are starting the eSIM and iSIM journey or looking to enhance IoT devices in your digital transformation, our team of experts can support your decisions at all stages.