eSIM with energy-efficient cellular connectivity, such as NB-IoT or LTE-M, is a key facilitator for IoT devices in smart cities
Cities increasingly rely on IoT technology and connected networks to manage limited resources. They count on various technology solutions that improve the sustainability and infrastructure of urban areas, airports, train stations and shipping ports. These solutions include smart utility management, traffic monitoring, and smart transport, to name a few.
Local government authorities and enterprises are embracing innovation by adopting IoT devices which use sensors, lights and meters for monitoring purposes. These connected devices generate real-time event data used to adjust and enhance infrastructure, public utilities and commercial services.
Some smart cities have begun using big data from IoT devices and sensors for a holistic view of usage trends and patterns. The insights drawn from the data analysis unleash considerable value by driving smart decision-making. This leads to enhanced resource utilization, improved sustainability and a long-term living experience.
Innovative IoT solutions for urban issues
Smart cities use innovative applications which are data-driven and rely on constant, ubiquitous sensing of the environment. They focus on renewable smart energy, better air quality, traffic flow optimisation, and other sustainable IoT-driven applications.
Smart Public Transport – tracking of fleets such as buses and micro-mobility sharing schemes to ensure efficient operation
Smart Buildings are technologies used to monitor and control the uses of resources such as electricity, heating and water in buildings
Smart Grid, includes all aspects of grid operations, energy generation, smart metering and energy distribution
Data driven cities need app-level security from device to cloud
Due to their ever-growing number, IoT devices in smart cities can be difficult to secure as they provide a massive attack surface area. The data generated from a city's IoT ecosystems is sensitive and confidential but subject to interception and tampering when in transit.
Maintaining data integrity and confidentiality are significant areas of concern for smart city projects as they must consider data privacy requirements to regulate data. It's vital for the trustworthiness of the data that it's secure by protecting the credentials used to secure data exchange between smart city IoT devices and the cloud.
Device makers and manufacturers need:
Security that can cope with LPWAN networks such as NB-IoT, LTE CAT-M and 5G
Tamper-resistant storage to protect their credentials
Secure communications with devices across Non-Cellular and Cellular IoT networks
Simple integration to existing systems or preferred vendors
Off-the-shelf devices without complex processes along the manufacturing chains
eSIM as a secure enabler for IoT deployments
To scale up, businesses need simple device manufacturing processes to keep the cost affordable whilst maintaining robust security benefits derived from SIM capabilities. eSIM helps accelerate IoT deployments for utilities, logistics and smart transportation. In addition, device makers can integrate trust into their manufacturing process to expedite growth.
eSIMs come pre-equipped with a global bootstrap, allowing manufacturers to add global connectivity to their products with a straightforward arrangement. Once the device is deployed, this initial connection enables the remote installation of a local operator profile on the eSIM, where they can benefit from localised roaming. Our SIM OS is designed to fit into the smallest chipsets making it one of the leanest, most secure eUICC operating systems for embedded systems.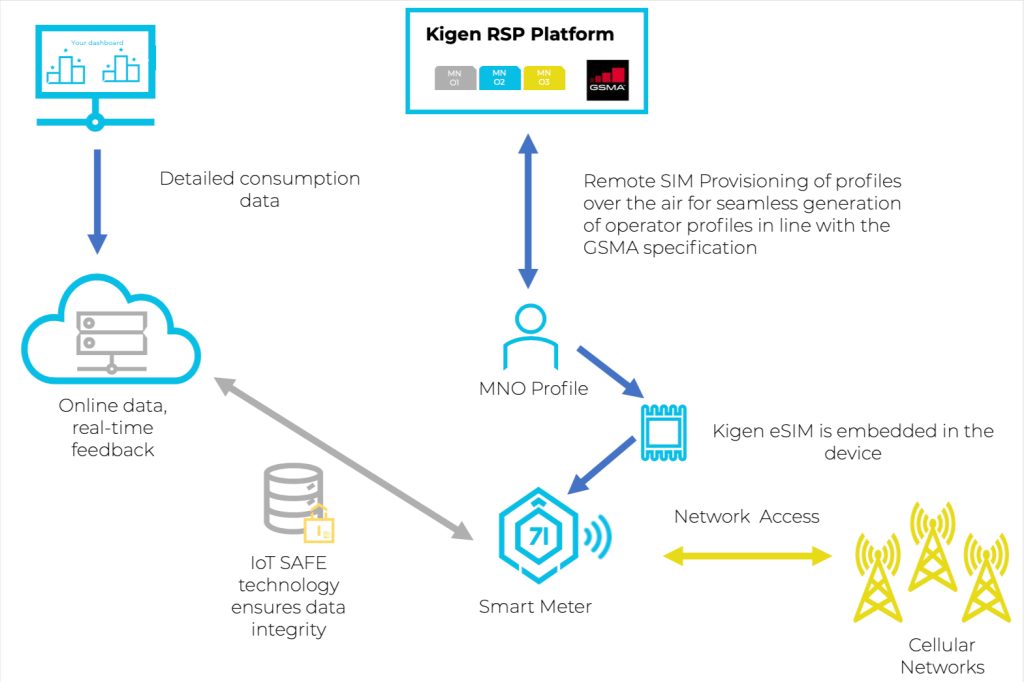 Remote SIM provisioning (RSP) can provide a local operator profile without physical access to the device if a local network is desired. Interoperability between mobile network operator (MNO) profiles and modular systems makes incorporating mobile tech for large-scale, cost-conscious deployments in smart cities easier.
eSIM and iSIM deployments for smart metering, sustainable transport and smart grid are rising. It is increasingly evident that enterprises are investing in eSIM for IoT for critical systems, with the requirement for more sophisticated features and robust security.
To back this up, Trusted Connectivity Alliance reported a 50% increase in eSIM profile activation, which signals the growing benefits of the technology beyond consumer devices.
The embedded SIM enables a rich set of IoT capabilities and deep integration into a broad set of smart city vertical markets. It is fast becoming the form factor of choice for module makers looking to instil a root of trust in their devices with robust, scalable chip-to-cloud security.
eSIM benefits for enterprises:
Flexibility: Organizations can employ inexpensive connected devices designed for specific tasks, or even specific products
Cost reduction: The total cost of ownership of devices, including provisioning, product tracking procurement and logistics*
Durability: Because eSIMs aren't removable, losses due to damage, vibration, and extreme temperature are mitigated
Security: Authentication of devices ensures data is exchanged securely from chip to cloud as they are embedded with a Root of Trust using the OPEN IoT SAFE initiative
Global connectivity: Networks can be switched seamlessly anywhere in the world
* On average eSIM devices cost 8% less over the device's lifetime on a like-for-like basis than those using plastic removable SIM. More details on eSIM savings can be found in Transforma insight's report
Newsletter Sign-up// – Light Gray Inline
Sign-up for our newsletter to receive the latest from Kigen.
---
4G/5G with LPWAN for localised data usage
With the growth in smart city digitalization, we are seeing more demand for low-power wireless sensors enabled by 5G networks. Cellular connectivity, such as NB-IoT or LTE-M is energy efficient a crucial enabler for smart city projects using eSIM as an accelerator of IoT deployments.
5G and low power wide area networks (LPWAN) IoT architecture enable IoT devices for remote area applications to share data securely when deployed with eSIM.
Smart meters and other smart city tech can be used in places with LPWAN coverage. Utilities can take advantage of existing cellular networks, giving them access to a more extensive selection of off-the-shelf smart energy devices with LPWA and eSIM capabilities.
LPWAN technologies, such as NB-IoT and LTE-M, are ideally suited to low data rates with long-distance coverage for smart city applications. LPWANs have a battery lifetime of 10-15 years, reducing the need SIM technologyfor regular battery replacement cycles, which helps address sustainability goals.
Sustainability is the priority
The energy sector needs a secure, scalable way to identify the growing number of clean energy resources. Smart building solutions, including smart meters, can reduce total global energy consumption by 3-5%, as stated by Transforma insights.
IoT eSIM technology offers substantial energy efficiency solutions for electricity, fuel and water. The deployments of IoT applications generate clean energy by instilling higher device monitoring performance, thus developing smart energy use.
eSIM gives customers a better view of their energy usage through online applications. Utility providers have a greater choice in affordable security for trusted IoT devices. Smart Cities using eSIM can offer value-added services whilst accelerating applications that decarbonize the energy market.
eSIM technology plays a crucial role in the digital transformation of smart cities by resolving complexity and reducing operational costs for local authorities, OEMs and enterprises.
Further reading
Webinar on how eSIM unlocks the digital economy for smart cities?
Secure smart grid data exchange with eSIM
Explore our eSIM technology in this 3D demo