As we look ahead to 2023, we review learnings from customers and our ecosystem on how device makers can use eSIM and iSIM technology for innovative connected solutions.
2023: eSIMs are simply essential
Let's start by looking at the recent and upcoming announcements around eSIM technology:
eSIM has entered The Economist's vital (tech) vocabulary for 2023 with the major move of the Apple iPhone to eSIM-only models for the US market. The stage is set for eSIM adoption to accelerate across both consumer and industrial digital transformation.
Samsung disclosed that during CES 2023, the company would focus on connecting innovation and sustainability. During the show, the Korean company will likely present a new and expanded SmartThings experience that integrates home ecosystems even more seamlessly with a system supported by enhanced security. eSIM may not be at the fore of the news but is expected under the hood to bring wider interoperability and more standalone devices that work in concert.
From an industrial IoT point of view, Trusted Connectivity Alliance reported that eSIM technology would see sustained double-digit growth. Earlier in 2022, GSMA Intelligence published research that showed that 83% of enterprises consider eSIM essential to the success of their IoT efforts.
Why should device makers and OEMs pay attention to eSIMs?
According to the IMC IoT Buyer research, almost a third of product makers or ODM deployments in 2022 involved more than 10,000 devices, showing that the stage is being set for IoT solutions to scale. A plurality of all companies starting to adopt or scale IoT begin their journey by talking to system integrators (or SI) companies.
Product makers are more likely to make their first stop a device maker. As scale is a critical need of the next stage of their IoT deployments, they cite a lack of interoperability as one of the biggest hurdles – and this trend has been increasing over time.
Further, according to McKinsey, interoperability is crucial across high-end scenarios of the fastest-growing IoT markets:
74% of IoT value requires interoperability to achieving maximum impact

Mckinsey, Nov 2021 Findings on IoT Value
Here's a quick primer on eSIM technology from Kigen's 2nd Special Edition of Wiley's For Dummies guide on eSIM and iSIM:
Embedded SIMs (eSIMs) are an evolution of the SIM card designed to address the limitations of traditional SIMs. They take a step further with new functionality that's needed to enable trusted IoT devices. eSIMs are typically physical SIMs that are soldered into the device and enable storage and remote management of multiple network operator profiles (remote SIM provisioning), offering the following advantages:
Seamless global connectivity: Networks can be switched easily and without physical handling, anywhere in the world.
Size: Because eSIMs are about half the size of Nano SIMs and don't require a socket, they easily fit in very small devices.
Durability: Users can't reach eSIMs so they can't damage or lose them.
Physical security: A SIM soldered within a closed device is hard to locate, remove, and reuse.
Cost: eSIMs reduce the total cost of ownership of the device because they optimize and eliminate costly supply chain and management costs.
A Remote SIM Provisioning (RSP) service comes in two flavors, as shown below (and Figure 2-1 in the dedicated chapter on RSP here). The first is a consumer solution that enables the smartphone device the ability to request or pull the required profiles, on the user's demand. The second flavor is an M2M (machine -to -machine) solution, where the fleet owner can push a SIM profile and needed data to an unattended device in the field. This is suitable for many cellular IoT deployments.
Newsletter Sign-up// – Light Gray Inline
Sign-up for our newsletter to receive the latest from Kigen.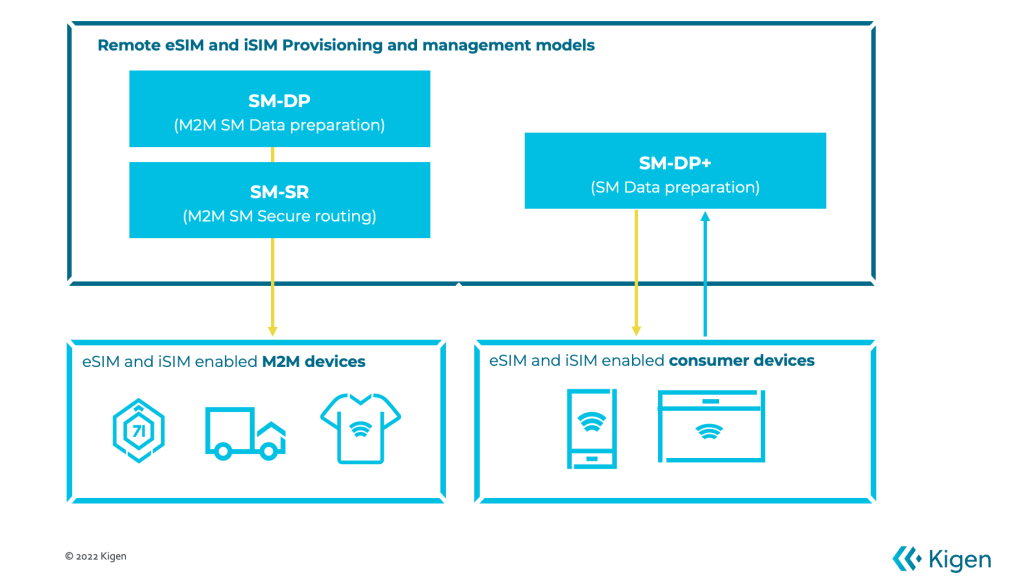 At Kigen, we've invested in one of the world's leading RSP for M2M and Consumer, certified under the GSMA Security Accreditation Scheme (SAS) with multiple accredited sites.
The technical advantages of eSIMs alone, should be sufficent to drive device makers to the technology given that leading OEMs are homing in on eSIM-only devices. However, eSIM in conjunction with Remote SIM Provisioning capability has additional factors in its favour.
The combination of eSIM and Remote SIM provisioning allows manufacturers to simplify their procurement arrangements drastically. It will enable remotely connecting devices and provisioning them securely over the air, across the globe, and over their entire lifetime.
2023: eSIM innovation Technology trends to expect this year and beyond
Here are five key aspects device makers should look out for to innovation with eSIM:
Leverage the full breadth of 5G technology standard with low-power networks LPWAN
NB-IoT and LTE-M were initially developed for the 4G LTE standard. However, 3GPP, the standards group responsible for 5G as well as the NB-IoT and LTE-M standards, has made NB-IoT and LTE-M part of the 5G standard.

In fact, they are the only standards that 3GPP plans to support for LPWA use cases, which require low cost, low power, high capacity, and low energy consumption. In addition, just as NB-IoT and LTE-M can operate with LTE technologies, so can they also operate with new 5G technologies, like 5G New Radio (NR).

Design for enhanced coverage taking advantage of terrestrial and non-terrestrial networks
Thanks to the latest developments in 3GPP release 17 and upcoming release 18 as part of the next 5G Standard, which define the Non-Terrestrial Network (NTN) for NB-IoT, device makers can now offer additional services and support that utilize Low Earth Orbit (LEO) and Geostationary Orbit (GEO) satellite constellations. Only 30% of the world's surface has coverage from terrestrial networks. As asset tracking, logistics, emergency services, and added-value solutions take flight, enhanced coverage without changes in the current design can offer radical ways to create unique customer experiences.

Increase reliability and simplify SIM inventory for your manufacturing
OEMs or device makers managing large volumes of customers can now receive their eSIMs to their required discrete, soldered or integrated form factor and have ownership transferred of their subscriptions to their customers' Control Center accounts. Kigen and AT&T have been working together with a common goal to ease manufacturing pain points for trusted IoT. By making eSIM ownership transfer simpler, customers can gain native AT&T connectivity essential for accelerating their cellular IoT deployments.
Remote provisioning capabilities considerably extend product lifetimes in service
Many IoT devices are built for the long term. For example, utility device designers and smart-city planners want to create connected devices that will share data for the next 10-15 years. Remote SIM provisioning allows you to change user profiles and networks to extend usability in the field.

Furthermore, Kigen recently demonstrated how innovative approaches to supporting energy-efficient NB-IoT devices with Kigen eSIM and RSP solutions, without the need for SMS over private LTE over a 900 MHz private LTE network. As utility players transition to Private LTE networks, such approaches can offer significant savings in operational costs of replacing physical SIMs.
Shrink electrical bill of materials and Total cost of Ownership (TCO) further with iSIMs
Fewer components mean less upstream production, combining three distinct components into an integrated SoC. A reduction in BoM costs offers significant benefits for devices where the Average Retail Price per Unit (ARPU) is low. As one considers devices of higher ARPU, the focus for most device makers and end customers shifts to lifetime operational costs with a metric known as Total Cost of Ownership (TCO).

Recent research findings from Transforma Insights show that on average eSIM devices cost 8% less over the device's lifetime on a like-for-like basis than those using physical SIM. If that eSIM is part of an integrated module, that moves to 11%. Even greater benefits come from iSIM, which is on average 13% cheaper than plastic removable SIM.


Build differentiation with savings and new revenue opportunities
Beyond cost savings already discussed above, eSIM and iSIM technology offer device makers new possibilities for revenue generation – both for themselves and to pass on to customers.
To this end, a further benefit of eSIM and iSIM technology is the root-of-trust proof, which becomes the basis of end-to-end security. This ROT must adhere to GSMA standards, particularly the GSMA's IoT SAFE.
As an associate member and active contributor to GSMA's IoT Safe standard to simplify zero-touch provisioning and trusted service creation, Kigen has introduced the multiple award-winning OPEN IoT SAFE. Device makers can simplify how devices are enrolled and provisioned with cloud infrastructure and accelerate new services acceleration. One example of such services are Digital Asset Brokering and Digital Wallet Services – something we expect to see more of in 2023.
What's next?
Leap into 2023 with us to gain your leadership advantage. Tech experts from Kigen can support you through proof of concept to scaled proof of value and commercial deployments.