Sierra Wireless has collaborated with Kigen to offer extended managed connectivity for global applications bringing coverage with leading carriers in the US, with multi-IMSI and multi-profile services.
Belfast / Vancouver, January 31, 2023
Sierra Wireless, a subsidiary of Semtech Corporation, and a world-leading IoT solutions provider that combines devices, network services and software to unlock 'ready-to-use' connectivity, announced a new service, Smart Connectivity Premium with eSIM / eUICC capabilities, enabled by Kigen eSIM solutions, and extended connectivity coverage in the United States.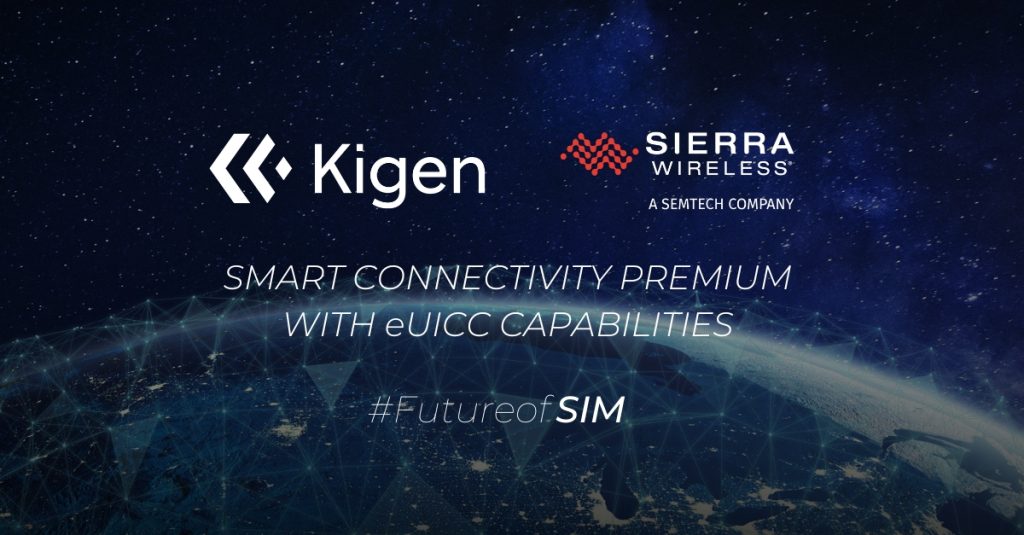 With universal coverage across geographies and technologies with one global SIM, Smart Connectivity Premium provides resilient IoT managed connectivity that is future proofed with its multi-IMSI, multi-profile design in accordance with GSMA eSIM (eUICC) specifications. The eSIM dynamically switches between profiles and networks when one becomes unreachable, offering maximum coverage and built-in failover in over 190 countries. Further, it provides customers with access to all three leading carrier networks in the U.S.
Kigen has been recognized by Counterpoint Research, the respected industry analyst, as a leader in eSIM/eUICC enablement for Kigen's advanced capabilities and product offering for module vendors, device makers and IoT service providers.
Sierra Wireless has showcased how eSIM Managed IoT solutions are supporting customers with reduced Total Cost of Ownership (TCO) and accelerating time to market, enabled by Kigen eSIM OS and services. This new announcement marks a step forward in helping companies who want to leverage best possible network coverage and eliminate disruptions to machines and mobile assets connected. The solution will also offer a future proof strategy to companies affected by the 3G network closures and need resilient solutions to future proof to 5G with LTE and LPWAN technologies.
Seamless global connectivity with eSIM for IoT success
An IoT Connectivity survey by Beecham Research in 2022 quantified the challenges in connectivity management amongst enterprise users and product manufacturers. Of the survey respondents:
80% indicated that scaling IoT projects globally to be quite or very challenging
78% consider reducing IoT project Total Cost of Ownership (TCO) and Bill of Materials (BoM) to be quite or very challenging
69% say they consider managing multiple vendors during IoT deployment to be quite or very challenging
66% indicated that accelerating time-to-market was a challenge.
This new capability addresses these challenges to support connectivity operations for business-critical IoT.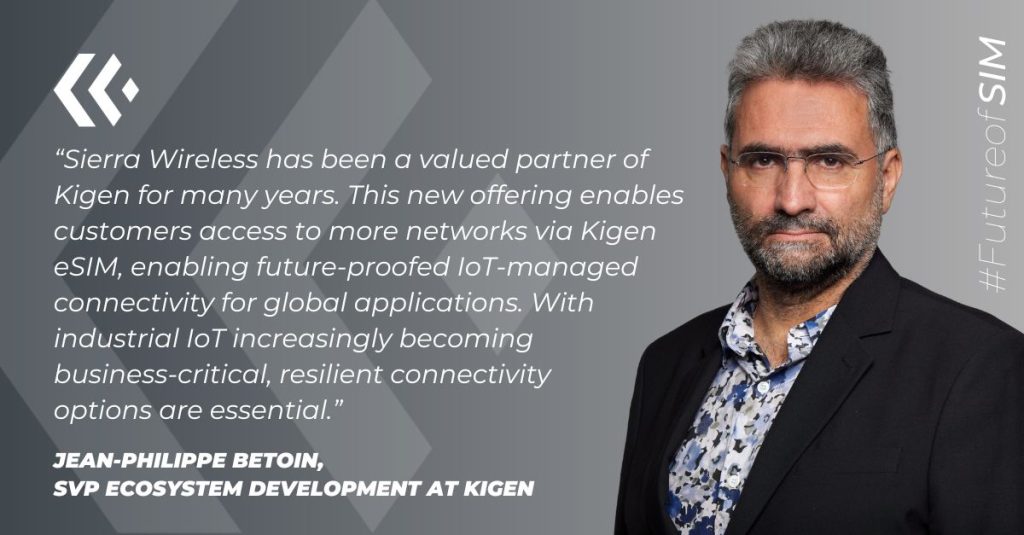 About Smart Connectivity Premium
Smart Connectivity Premium is offered as an embedded SIM in Sierra's Ready to Connect modules, or as an industrial grade external SIM in various form factors. Customers will have secure access VPN and Private APN options as well as zero touch provisioning on cloud via the AirVantage® management platform.
Smart Connectivity Premium is currently available in the United States.
Excerpts
"Using eUICC capabilities for expanded network access and coverage further strengthens Sierra Wireless' global IoT managed connectivity offering for customers," said Ross Gray, VP of Semtech's IoT Connected Services Group. "Sierra Wireless' Smart Connectivity service simplifies how customers connect and manage their deployments. With one global SIM, it accelerates IoT time-to-market, ensures resilient global coverage, maximizes uptime, reduces operational costs, and provides IoT customers with seamless expansion into new markets with access to over 600 partner networks in over 190 countries. Now, thanks to our partnerships with the leading U.S. carriers, it also offers expanded coverage in the United States as well."
Find out more
If you would like to discuss how eSIM can support your IoT roll-outs, book a meeting here with our eSIM experts.
See more information on Smart Connectivity Premium here.
Read the full news release