Looking back at MWC'23, a focus on real use-cases and solutions with eSIM and iSIM becoming mainstream around IoT Connectivity stood out. Here are my highlights, surprises, and takeaways.
With well over 200 meetings, it's been an action-packed edition of MWC Barcelona for Kigen. What was apparent was a move from focusing on individual technologies of 5G to real use cases and how to address scale. It feels eSIM and iSIM are mainstream in the conversation around IoT Connectivity.
The show always delivers a fascinating snapshot of the state of mobile technology and telco innovation, and this year was no exception having attracted around 88,000 attendees by latest GSMA estimates. However, the key theme was less about hype technology trends like 6G and Metaverse, and more about how IoT is supporting digital transformation of industries. There was a marked shift in the conversation from 'should we' to 'show me how' around security, 5G monetization, and sustainability.
At the heart of these 'show me how' conversations, we start to unpack the key technologies that support innovations. Here are those that really stood out:
1. Telcos take the leap on eSIM
As we started 2023, we highlighted why eSIM technology is becoming essential to Device makers or OEMs. Further to this, the run up to this year's MWC saw the release of Counterpoint Research's eSIM Enablement Landscape, noting that more than 260 mobile operators and majority of the virtual network operator market now support eSIM and the average device support by carriers is more than 30.
Kigen was positioned as a specialist in eSIM enablement and noted as one of the fastest moving players and noted in the report as "making strides in the consumer domain as well as augmenting the cause of iSIM."
The launch of the eSIM-only iPhone 14 has triggered interest from European and APAC CSPs at an all-high time, opening the eSIM market to newer telco/ MVNO players. It also has had a positive influence on OEMs as many look to opportunities growing in the consumer services market through adoption of eSIM.
2. eSIM Connectivity will get a boost from IoT eSIM SGP.31/32 GSMA specification
Whilst the need for global seamless connectivity for IoT has been a significant driver for OEMs and device makers turning to Cellular, coverage gaps are present across large geographies. Prime amongst the 'How to' conversations were the key developments in driving global connectivity that is meets the varied requirements around energy efficiency, ease of certification with MNOs and for scaling, and affordability. One size would not fit all use-cases, and MWC'23 delivered well in innovative approaches to address this growing needs for telcos and OEMs.
GSMA's upcoming IoT eSIM technical specification SGP.31/32 is currently a major topic among IoT-focused MVNOs for enablement of connected devices. Kigen chairs this workgroup and collaborative work at GSMA through Said Gharout, Head of Standards. This upcoming milestone will include changes that bring in streamline integrations and allow to aggregate multiple mobile networks, resulting in a specification that is highly beneficial for IoT.
A Remote SIM Provisioning (RSP) service comes in two flavors, as shown below (and Figure 2-1 in the dedicated chapter on RSP here). The first is a consumer solution that enables the smartphone device the ability to request or pull the required profiles, on the user's demand. The second flavor is an M2M (machine -to -machine) solution, where the fleet owner can push a SIM profile and needed data to an unattended device in the field. This is suitable for many cellular IoT deployments.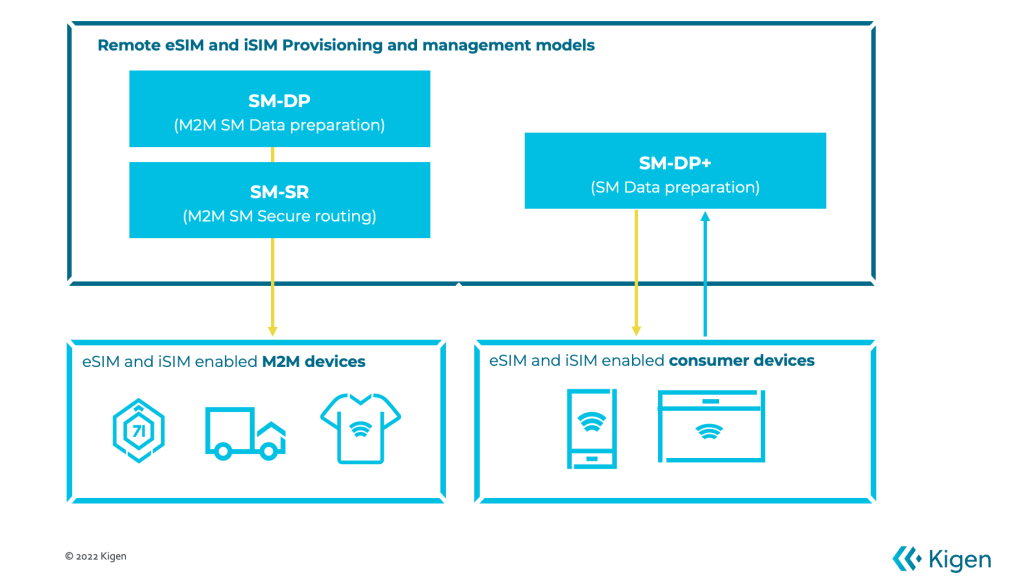 Further on the consumer side, TCA has launched an eSIM Interoperability Service to promote increased confidence and trust across the eSIM ecosystem, delivered by test solution provider Comprion to allow mobile and network operators to test their eSIM profiles with various eSIM devices.
3. Global ready-to-connect eSIMs with built-in failover
As this ecosystem grows, there is a strong appetite for bundled solutions – bringing modules with connectivity to speed up development time and standards-compliance. Sierra Wireless demonstrated the new Smart Connectivity Premium with eSIM bringing multi-ISMI, multi-profile with built-in failover in 190 countries. With this enhanced combination, enabled by Kigen eSIM products and services, would allow to reduce Total Cost of Ownership (TCO) and Time to Market.
4. Bridging cellular coverage gaps with satellite connectivity
Satellite connectivity was perhaps the strongest trend at this year's MWC as the chipset makers and MVNOs looked at satellite connectivity as 3GPP Release 17 and as a number of new satellite constellations will support cellular technologies based on NB-IoT and LTE-M.
Only 30% of the world's surface has coverage from terrestrial networks. The combination of cellular and Non-Terrestrial Networks (NTN) or satellite connectivity, is particularly attractive for devices used in challenging environments, where relying on terrestrial cellular networks alone can be problematic.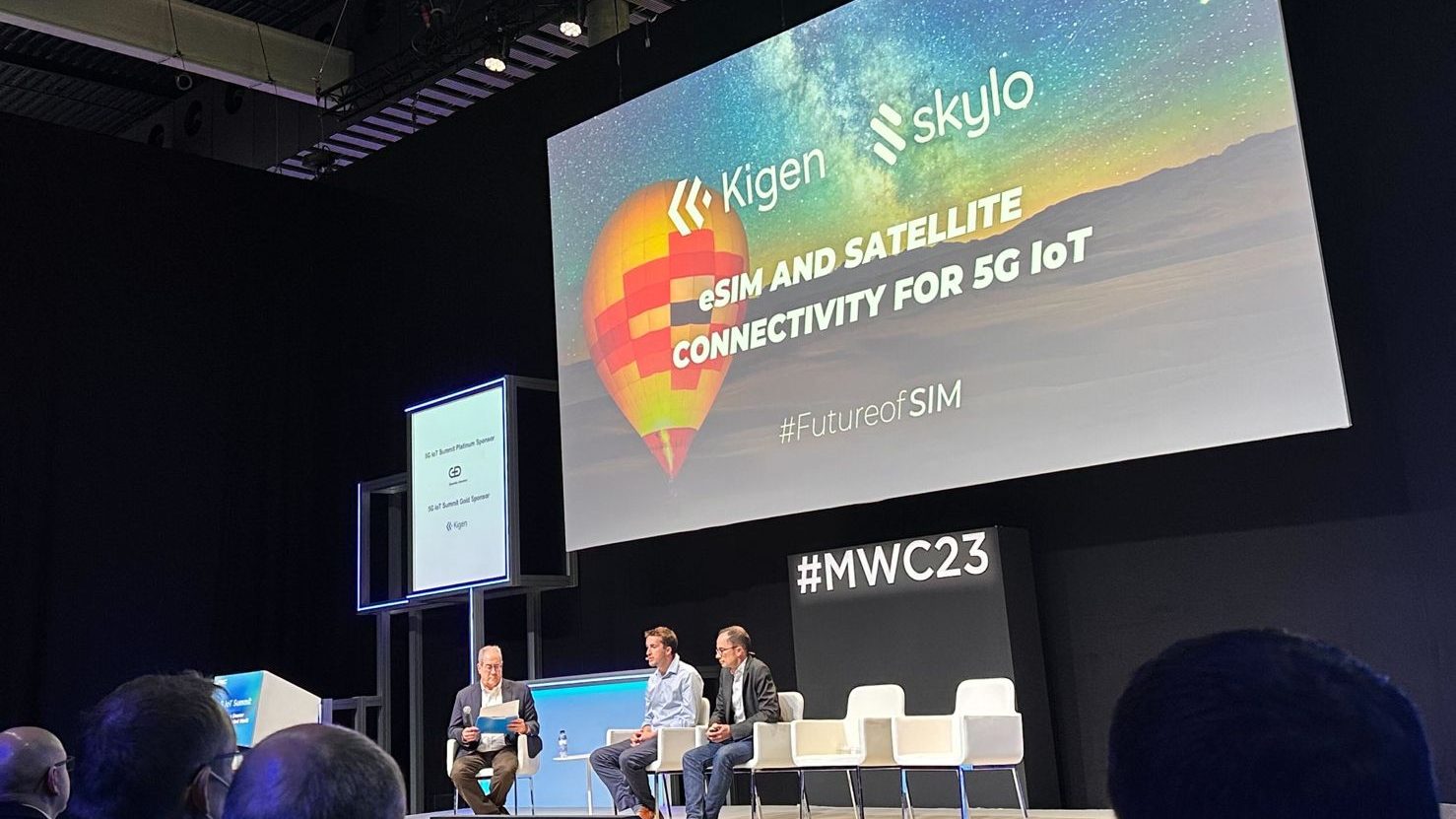 Kigen and Skylo announced our collaboration in making satellite connectivity integration frictionless for device makers, allowing for seamless transitions between cellular and satellite connectivity via Skylo's SIM profile via Kigen eSIM OS. Bullitt Group, the leading rugged tech brand launched the new Motorola Defy and CAT S75 phones that are built on this collaboration. We're just at the start of the convergence of cellular and satellite and exciting possibilities lie ahead. See the full recap of our discussion at the GSMA 5G IoT Summit here.
5. Moving towards digital revenue opportunities
Seizing the opportunity in over 750 million hobbyists worldwide and a further over 500 million business critical rural and remote workers, leading rugged tech brand Bullitt announced a series of products enabled with this unique combination from Skylo and Kigen on MediaTek's Dimensity eSIM Chipset: the Bullitt Satellite Messenger available on the Motorola Defy Satellite Link.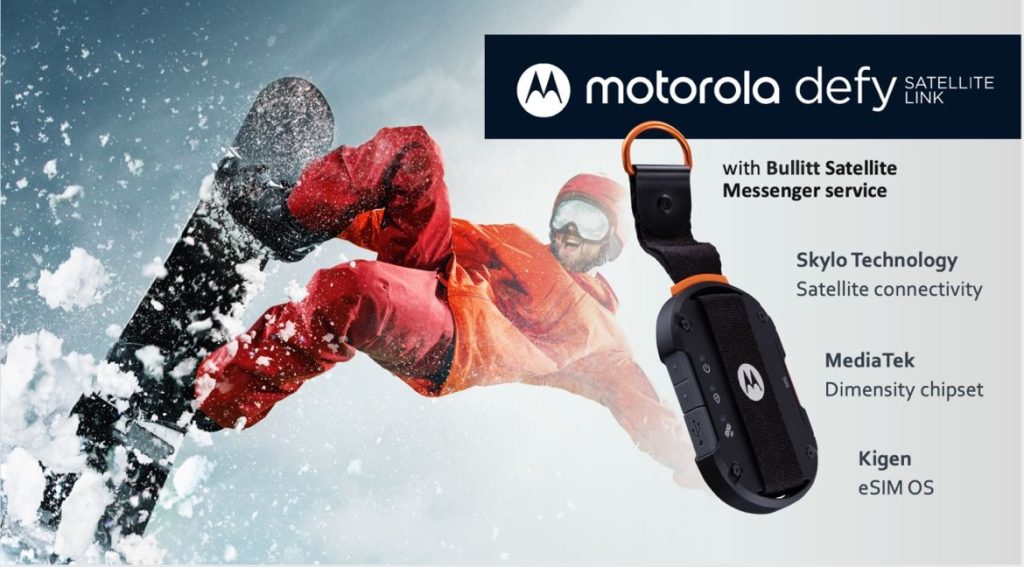 This is a great example of how a leading OEM is extending their unique understanding of their subscriber base into new digital revenues that augment the experience of the hardware. The service execution is incredibly thoughtful both in how it works natively on the Cat S75 smartphone and its compatibility to any iOS or Android device. No wonder, Bullitt was awarded the "Best of Show" GLOMO award – a well-deserved recognition!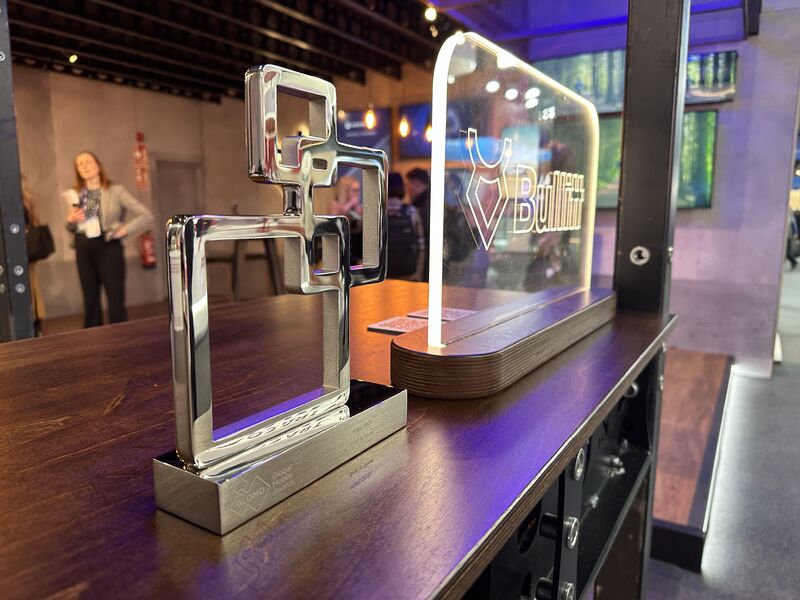 For OEMs looking to explore new models of digital revenues that are suited to their business models, the news of Quectel's launch of flat-rate roaming IoT connectivity would be welcome news.
6. iSIM technology firsts with remote provisioning build confidence
At the onset of MWC'23, IoT Now, as part of the official publications of the show covered what all factors could indicate if 2023 is the year of making it easy for OEM's to scale IoT.
"It took 22 years for SIM and 12 years for eSIM chips to become mass market, OEM mandated technology in volume, but within five years, iSIM products are coming to market. It's particularly pleasing for us because Kigen was formed to make this a reality, and today, our ecosystem is thriving." Noted Vincent Korstanje, Kigen's CEO on how iSIM technology is helping business to out-think the future.
There were some notable firsts, particularly as Berg Insights noted in their MWC'23 highlights, "Sequans, Eseye and Kigen have launched an iSIM solution based on the M2M specification, a major step towards widespread adoption of iSIM in the IoT space." We welcome this availability of world's first multi-carrier integrated SIM for IoT.
Further, the conversation around iSIM is also moving ahead from is it iSE, iTRE, iUICC or ieUICC as we find more common language around iSIM. This will certainly help to move towards the estimate by Kaleido Intelligence of 300 million iSIM devices in the forecast period till 2027.
7. Bridging the gap to those who are unconnected
The GSMA dedicated a corridor ahead of Hall 2 this year to highlight the "Usage Gap", which ensures the benefits of mobile coverage and technology translate to driving digital inclusion.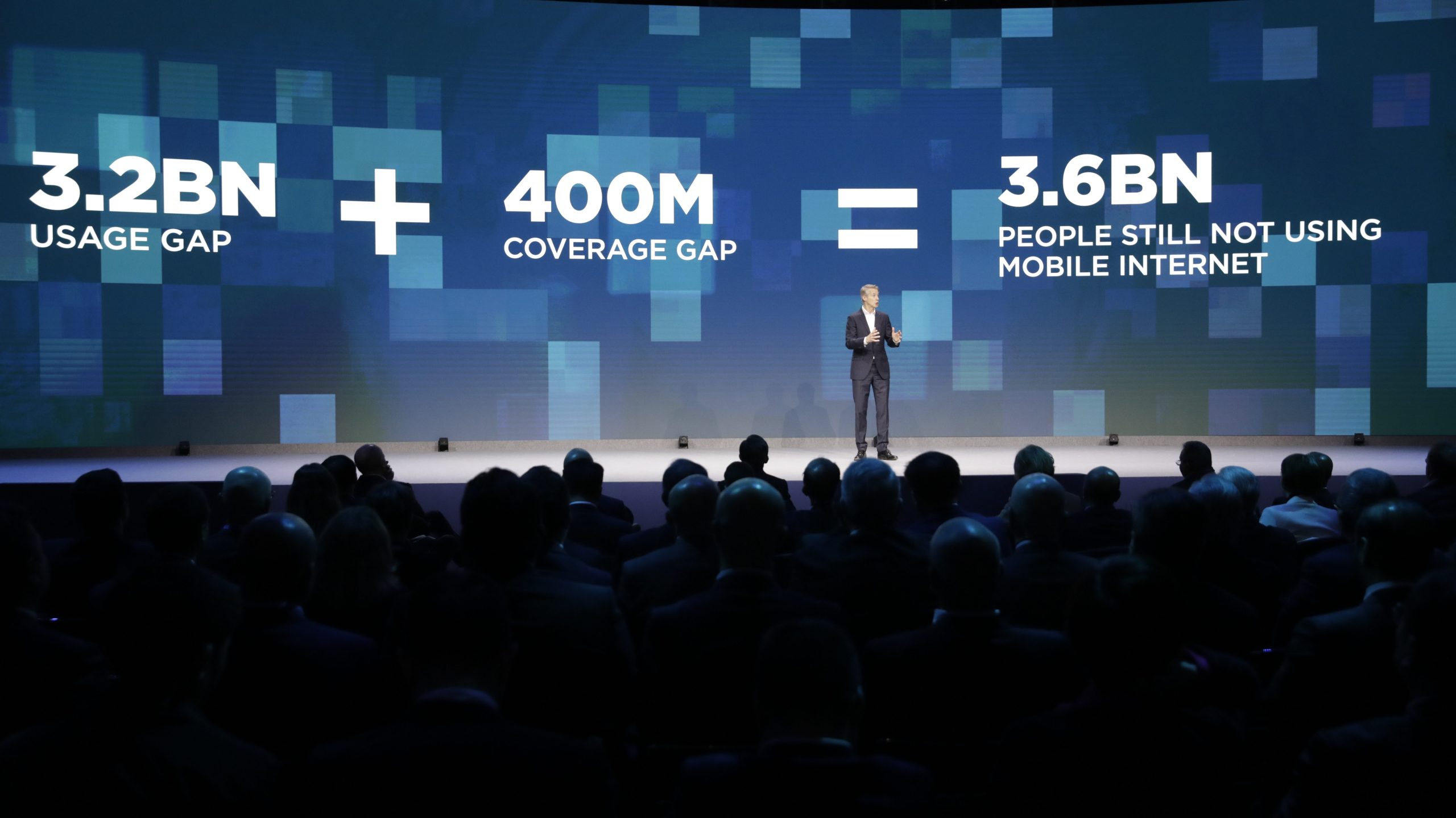 95% of the global population lives in areas where connectivity is available to some extent. However, bridging the coverage gap to the remaining 5% geographies and ensuring that barriers that 40% of the world faces that prevent access to digital services, such as:
– Lack of digital skills or literacy
– Affordable devices
– Access to relevant content and services
– Security and safety concerns
Research shows us that 94% of the world's unconnected population – are more likely to be poor, living in rural areas and women. This disproportionately affects the ability to contribute and benefit from a world that is increasingly online.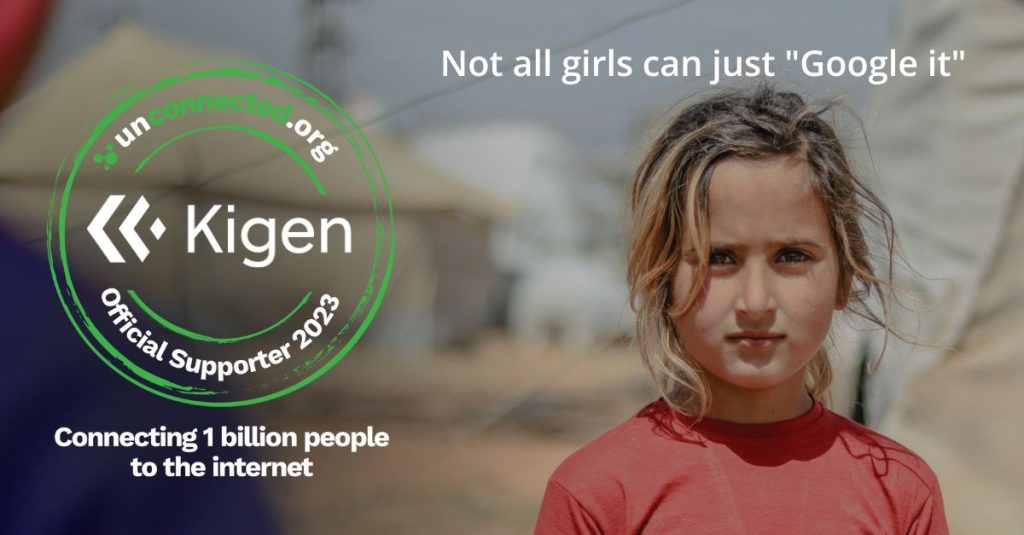 It is commendable that there was discussion around how to collaborate together, and we hope this would benefit organizations such as unconnected.org who are involved in upskilling and education of digital skills to underserved communities, and supply of SIMs and hardware.
I was also asked "What were the coolest things about the show?"
1. Showcasing the pretty cool TryFi IoT connected Dog Collar enabled by Kigen SIM card
2. Motorola Defy Satellite Link by Bullitt – it's so compact and jam packed with innovations!
3. As ever, it was great to meet all our customers and explore together how we can take the mobile industry to the next level.
Until next time!
What were your highlights from MWC'23?
Let us know by joining the #FutureofSIM conversation on LinkedIn or Twitter.